Call
251-223-9495

for Free Estimates Serving Gulf Shores, Foley, and Orange Beach AL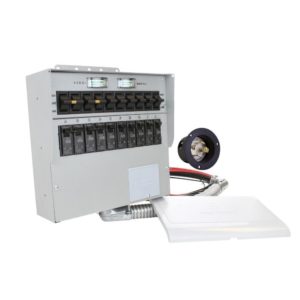 Everyone Needs a Transfer Switch
Whether you have a portable generator or a permanently mounted standby generator, you must have a transfer switch to make it work effectively and safely. Call today to have your transfer switch installed by McCord Electrical Services of Orange Beach Alabama. We serve Foley and Gulf Shores, too! Call now.
A transfer switch is an electrical switch mounted on or near the electrical panel, that switches the electrical load between two sources, usually from a standy or back up generator to your house. Some transfer switches are manual, in that an operator throws a switch, while others are automatic and trigger when your home or business loses power. The stand by generator automatically starts and the switch takes your home off the power grid and feeds electricity from the generator safely into your home.
Safety Warning: Never Plug a Generator Into You Home Electrical Outlets
When considering the purchase of a generator for home backup use, you should also think about installing a transfer switch device. A professionally installed transfer switch makes using your generator easy and safe.
How much does it cost to install a generator transfer switch in Orange Beach AL? Every situation is different. It depends on your type and size of generator. Call today for a free site visit to give you a firm quote.
Can you plug a generator into a wall socket? No!
If you plug your generator directly into a wall outlet, then the wiring in your house is no longer protected by a circuit breaker or fuse in your power panel.
The electrical circuit could become overloaded, overheating the wires, and start a fire in your business or home.
How much does it cost to have a Generac generator installed? Costs for typical 20kW generators (with ATS) vary from around $4,500 to just over $6,000 plus the labor and materials to install both the transfer switch and the generator. Call McCord Electrical in Orange Beach for a free site visit and estimate.
How to safely hook up a generator to a house when the electrical power goes out:
Connect the generator cord to the transfer switch or inlet box.
Turn off all the circuit breakers in the transfer switch to the off position.
Start the generator and let it warm up.
Flip the main breakers in the transfer switch to the generator position.
McCord Electric Service Arrives Ready to Work
In most cases, we send out our electricians, even if your appointment is just an estimate, ready to work.
If you\'re confident with our team and the price quoted, you can decide to go ahead and complete the work right then. If special equipment and fixtures need to be ordered, we will start that process, too.
Since electrical is our business, our service vehicles carry the latest in technology and diagnostic devices, the best time-tested tools and equipment of our trade, and the electrical repair parts we use all of the time.
We restock daily to make sure the one showing up in front of your home or business in Orange Beach, Foley, Gulf Shores, and anywhere in Baldwin County, is fully-equipped to meet your project head-on. Even if you decide on a major installation, our technicians have everything they need to get the work started.